Since the wedding, my mother has put me on a clothes shopping ban and I have been craving to shop so much these days. I am seeing these desi casuals everywhere I look online and I want in!!!!!!!!!!
Since I am not allowed to shop,i am going to do the second best thing I can do bout my cravings- Blog It!!
I am obsessing over Desi casual wears. Pakistani girls always looks gorgeous in their Lawn Shalwar Kameez.And how bout those comfy yet stylish Pakistani model kurtas in funky patterns and cuts? These are my obsession right now. Here are some pins from
my pinterest board
on which I am pinning like crazy,in hopes of getting some of those stitched atleast since I cannot find these online OR in shops just yet.
Another common theme I am seeing in my obsessiveness is my craving for Yellow shades. The second picture has been in my to do folder for so long that I actually feel guilty.I am soon going to get some lawn material and try to get that stitched egg-jactly the same, and then maybe get a contrasting shade(?) dupatta to go along with it.
I have also been wanting to sport the neon green trend before it runs out of style, but I am having a hard time finding something I'd love to wear in that shade.Everyone else seems to find that perfect neon green dress but me *sob sob*
How gorgeous is that high-low cut and the crochet like print at the back and the fluorescent pink shade.
Normally,I don't like leopard print,but with this shade and pattern,it actually looks so damn classy that I am tempted to go out and get those materials and get me something similar stitched. The above three designs are from the facebook page of a shop at calicut that sells trendy fashion jewellery and clothes called
Head Over Heels! or HoH!
These pieces are available at the sale they are organizing there on February 7,8 and 9.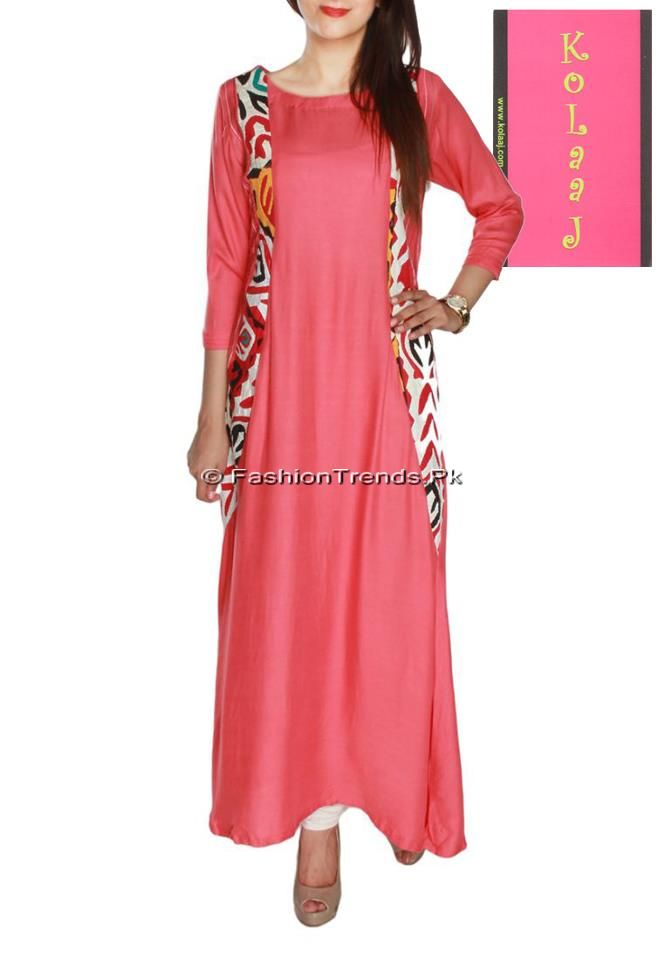 This is a picture of the latest collection of Kurtas by the paki brand Kolaaj that is available on
daraz.pk
... I think that soon I might just break and succumb to temptation and shop!!!!!!!!I will deal with mom when I have to. But Now..I cannot resist the sweet sweet temptation of retail therapy....